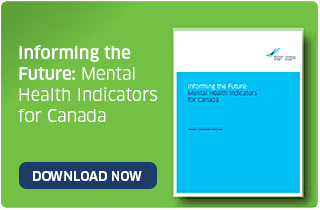 In order to paint a more complete picture of the mental health landscape in Canada, the MHCC presents 55 indicators reflecting mental health for children and youth, adults, and seniors. The indicators look at mental health in different settings and report on aspects of services and supports used by people living with mental health problems and illnesses.
These indicators can be used to set priorities about where to best direct efforts. They can be used by stakeholders and policy makers to inform decisions and to focus attention on strategies designed to improve the mental health of Canadians.
MHCC is pleased to present the results of 55 indicators at this time. The Mental Health Commission of Canada is currently engaging with First Nations, Inuit, and Métis representatives about the national mental health indicators and the gaps in data related to First Nations, Inuit, and Métis mental wellness. The Commission will be continuing these discussions into the Fall and will release more information on our work at a later date. For more information, download the technical document (which details how each indicator was calculated), read the backgrounder or access the dashboard below.
Mental Health Indicators
CLICK ON A FOCUS AREA BELOW TO EXPLORE THE RELATED INDICATORS