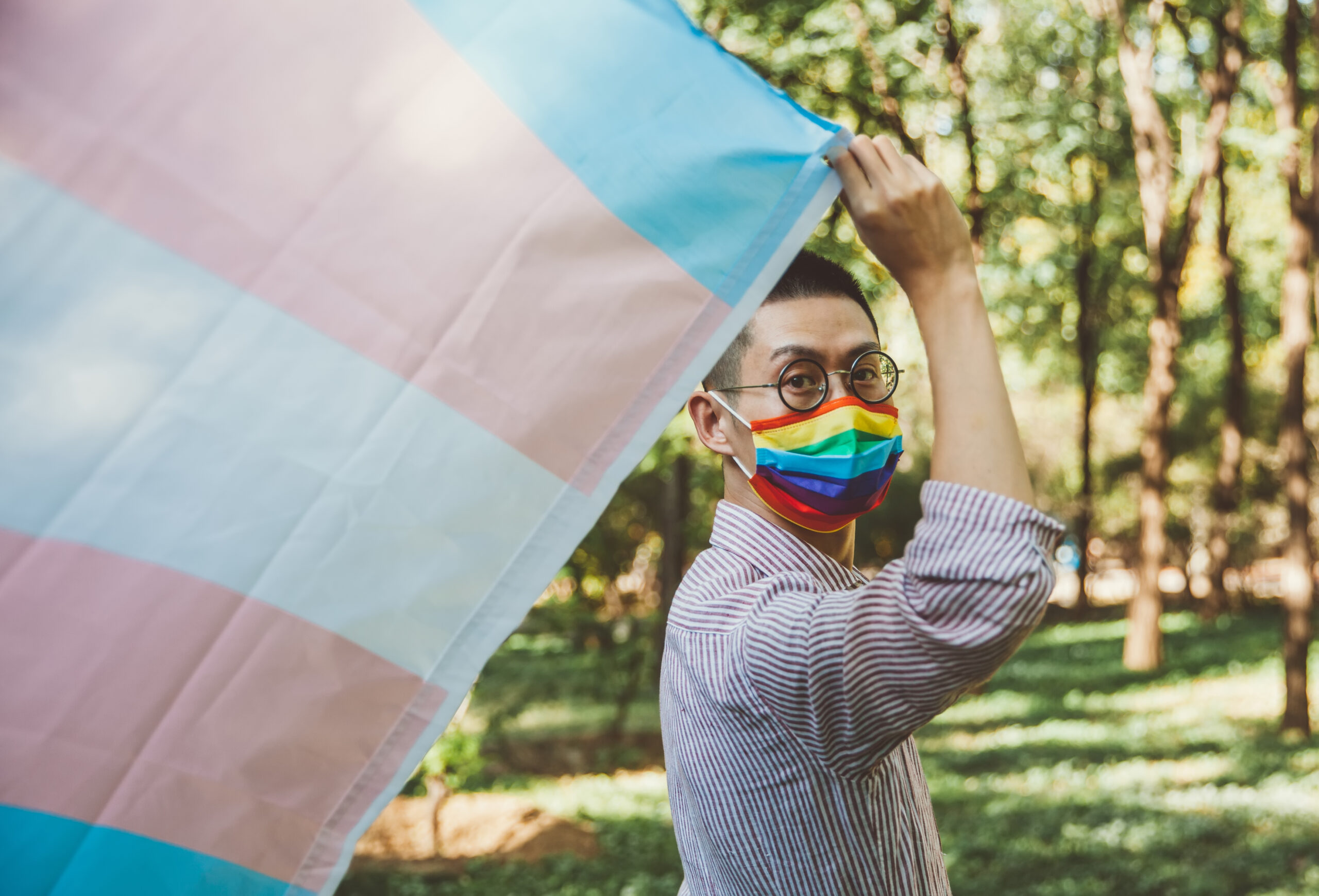 Transgender (trans) people face unique stressors, including the stress some trans people experience when their gender identity is not affirmed. Trans people also experience higher rates of discrimination and harassment than their cisgender counterparts and, as a result, experience poorer mental health outcomes. They are also at a greater risk for suicide as they are twice as likely to think about and attempt suicide than LGB people (Haas et al., 2011; McNeill et al., 2017; Irwin et al., 2014).
GENDER IDENTITY refers to a personal conception of one's place on the gender spectrum; the gender that one identifies as may be the same or different from their birth assigned sex.
TRANSGENDER (trans) is an umbrella term that represents a wide range of gender identities and expressions. Trans people do not identify either fully or partially with the gender associated with their assigned sex at birth (Canadian Federation of Students, 2017).
WHY ARE TRANS PEOPLE AT RISK?
There are a few factors that put transgender people at risk of suicide, factors that can put strain on one's mental health and potentially lead to thoughts of suicide:
Institutional prejudice manifesting as laws and policies which create inequalities and/or fail to provide protection from discrimination
Experience of discrimination (transphobia) in the form of physical or verbal harassment, physical or sexual assault
Lack of support from parents and other family members
Stress related to fear of transitioning, including the potential backlash and life disruption, as well as considering the risks and sometimes lengthy time period involved
Gender dysphoria, or distress related to a conflict between one's physical or assigned gender and the gender with which they identify (Bailey et al., 2014; Haas et al., 2011; Suicide Prevention Resource Center [SPRC], 2008; Taylor et al., 2011).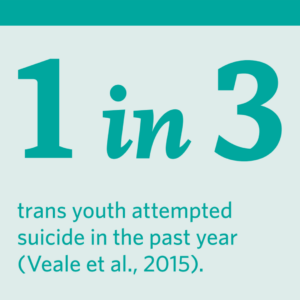 What can reduce risk?
Supportive and strong relationships with family and friends
Completed medical transition (if medical transition is desired)
Self-awareness and acceptance
Access to gender affirming health care
Not having access to lethal means such as guns or potentially deadly medications
Having one's name and pronouns accepted (Bailey et al., 2014; Bauer et al., 2015a; Haas et al., 2011; SPRC, 2008).
WARNING SIGNS
Any significant change in behaviour or mood is a warning sign that someone may be thinking about suicide, for example:
Losing interest in a previously enjoyed hobby or activity
Disconnecting from friends or family (not calling as much, not going out)
Change in sleeping or eating patterns
Increased and excessive drug and/or alcohol use
If you notice any of the following signs, get the person help immediately – call 9-1-1 or your local crisis centre:
Threatening to hurt or kill themselves
Talking or writing about dying or suicide
Seeking out ways to kill themselves (American Association of Suicidology, 2018)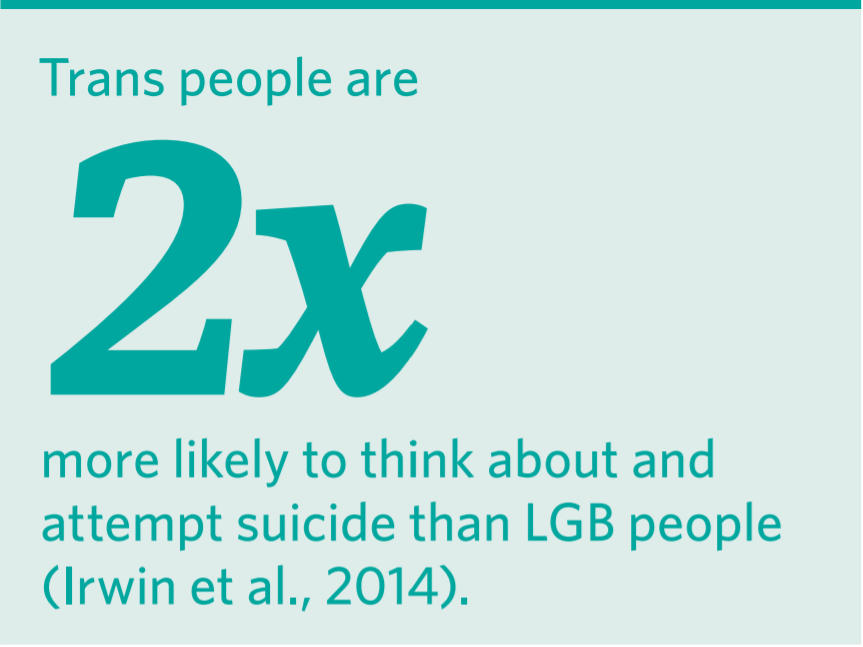 What can we all do to help reduce suicide among trans people?
If someone you know is exhibiting warning signs, have an open, non-judgmental conversation with them. You can start the conversation by mentioning your concerns, "You seem to be having a lot of family issues lately. How are you doing?" Listen to them, be there for them. You don't have to offer solutions. If the person responds with statements of hopelessness or being a burden, ask them about those feelings. Then, ask them directly, "Are you thinking about killing yourself?" (Substance Abuse and Mental Health Services Administration, 2010)
Ensure trans people feel respected by affirming their gender identification. Use their chosen name and pronouns, as well as sensitive and inclusive language. If you're not sure what terms to use, listen to how they refer to themselves or ask! (Russell et al., 2018)
The wellbeing of trans people can be greatly affected by the characteristics, norms, practices, and spaces of institutional environments.
Schools should implement safe-school policies and procedures specifically addressing transphobia (Saewyc, 2014).
Health care practitioners should be trained in gender diversity and trans health, as trans people often require specialized care (Veale et al., 2015). The TransPulse survey found that half of trans respondents reported discomfort discussing trans health issues with a physician and that 38% had at least one trans-specific negative experience (Bauer et al., 2015a).
Parents and family members of trans people should be accepting and supportive (Bauer et al., 2015b).
All institutions should ensure that trans people have access to bathrooms and gender-appropriate campus housing (Seelman, 2016).
What can trans people do to stay mentally healthy?
CONSIDER HOW TO TRANSITION
Decide whether to transition in appearance and by name, and if a medical transition is desired, too.
PRIORITIZE POSITIVE RELATIONSHIPS
Call, text, and hang out with supportive and affirming friends and family members and consider reaching out to other trans people, especially peers.
FIND AN INCLUSIVE AND AFFIRMING HEALTHCARE PROVIDER
This is vital to ensure safety and comfort when accessing healthcare services.
ASK FOR HELP WHEN IT IS NEEDED!
When struggling to cope with life, tell a loved one or call the local crisis line, or the Trans Lifeline at 877-330-6366.