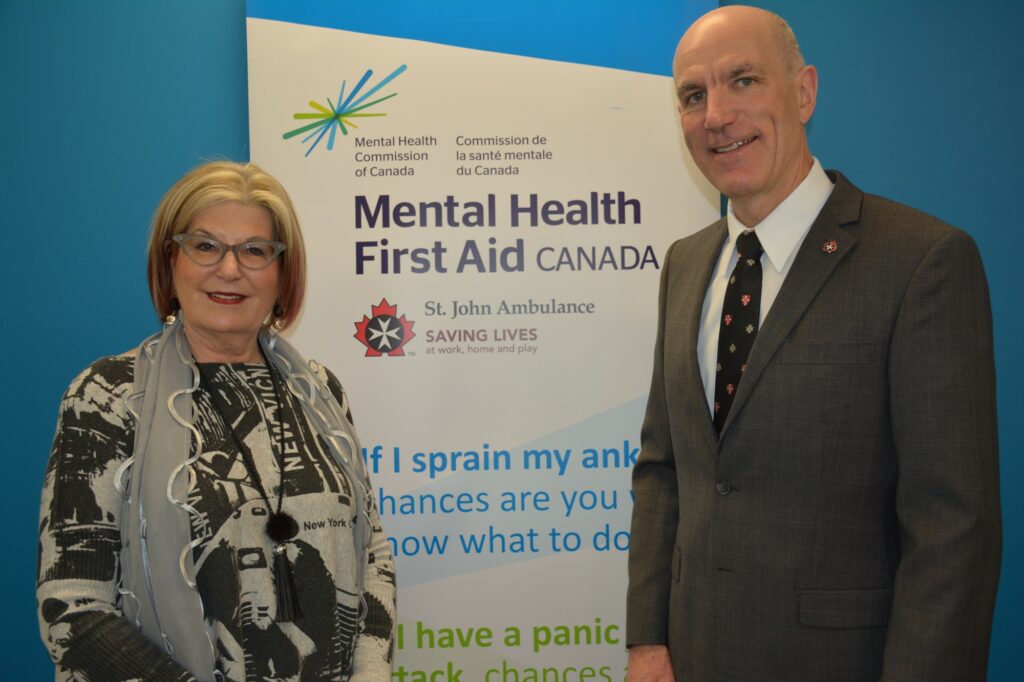 Ottawa, ON – Mental Health First Aid Canada (MHFA Canada) and St. John Ambulance announced today a new agreement that will increase the number of instructors equipped to offer mental health first aid training, making it more accessible to people across Canada.
MHFA Canada will train at least 40 St. John Ambulance instructors in Mental Health First Aid, who will in turn teach this proven, evidence-based course on behalf of St. John Ambulance.
"Mental health first aid should be made as accessible to Canadians as physical first aid," says Louise Bradley, President and CEO of the Mental Health Commission of Canada (MHCC). "Our partnership with St. John Ambulance is a significant step toward making that a reality." MHFA Canada is an initiative of the MHCC.
"Mental health problems and illnesses affect 1 in 5 Canadians in a given year," says Allan Smith, CEO of St. John Ambulance. "As an industry leader in First Aid, adding a focus on mental health will further St. John Ambulance's mission to improve the health, safety and quality of life of Canadians at work, home and play."
Mental health first aid is the help provided to a person developing a mental health problem or experiencing a mental health crisis. Just as physical first aid is administered to an injured person before medical treatment can be obtained, it is given until appropriate treatment is found or the crisis is resolved.
The MHFA Canada program aims to improve mental health literacy and provide the skills and knowledge to help people better manage potential or developing mental health problems in themselves, family members, friends or colleagues.
More than 220,000 people in Canada have been trained in MHFA since 2007.
---
ABOUT THE MENTAL HEALTH COMMISSION OF CANADA
The Mental Health Commission of Canada is a catalyst for change. We are collaborating with hundreds of partners to change the attitudes of Canadians toward mental health problems and to improve services and support. Our goal is to help people who live with mental health problems and illnesses lead meaningful and productive lives. Together we create change. The Mental Health Commission of Canada is funded by Health Canada.
www.mentalhealthcommission.ca | strategy.mentalhealthcommission.ca
ST. JOHN AMBULANCE
St. John Ambulance is an international humanitarian organization and is a foundation of the Order of St. John. As Canada's standard for excellence in First Aid and CPR services, St. John Ambulance offers innovative programs, ensuring Canadians receive the best quality training. Revenue generated from First Aid/CPR training supports St. John Ambulance's charitable work. To learn more, please visit www.sja.ca
Media Contact:
Hélène Côté, Senior Communications Advisor, Marketing and Communications
Mental Health Commission of Canada
Office: 613.683.3952
Mobile: 613.857.0840
hcote@mentalhealthcommission.ca
Philippe Blain, Director , National Accounts
St. John Ambulance National Office
Office: 613.236.1283 ext. 237
Mobile 613.979.6611
philippe.blain@nhq.sja.ca