Canada's Mental Health Strategy, released in 2012 by the Mental Health Commission of Canada, recognizes the value of including "peer support as an essential component of mental health services".  This insight was gained in part from research but also from countless hours listening to Canadians speak of their lived experience with illness, recovery, and the factors that had a significant impact, like peer support.
Peer support is a supportive relationship between people who have a lived experience in common.  In the case of Peer Support, the experience that individuals or groups have in common is in relation to a mental health challenge or illness. The Mental Health Commission of Canada launched the Peer Project in 2010. The focus of this project was to learn from the experience of peer support workers across Canada and help recognize peer support as an essential component of the mental health services.
Guidelines of practice for peer support
Based on the recommendations of 2010's Making the Case for Peer Support report, the Peer Project is working to create guidelines of practice promoting the continued use of the grassroots, community-based peer support practices that have been so successful to date. Set to be released in 2013, these guidelines will outline the values, principles of practice, and skills and abilities of peer support workers—and provide much-needed insight and guidance to policymakers and program leaders on how to maximize the benefits of peer support programs.
Peer support training and workplace programs
The Peer Project is also bringing together organizations with experience in peer support training—and the desire to share their knowledge. Through this increased collaboration, the Peer Project plans to establish not only national guidelines of practice but also competencies and training curricula for peer support workers. And as these communities of practice grow, focus will be able to shift toward the provincial/territorial policy level to ensure peer support is recognized as a key component of Canada's mental health system.
Changing attitudes toward mental illness
In addition to developing guidelines of practice, the Peer Project also seeks to encourage a change in societal attitudes toward mental illness through the use of peer-based education in our schools and workplaces. It is hoped these strategies will enable Canadians to better understand the realities of mental health issues, ultimately leading to a more supportive society.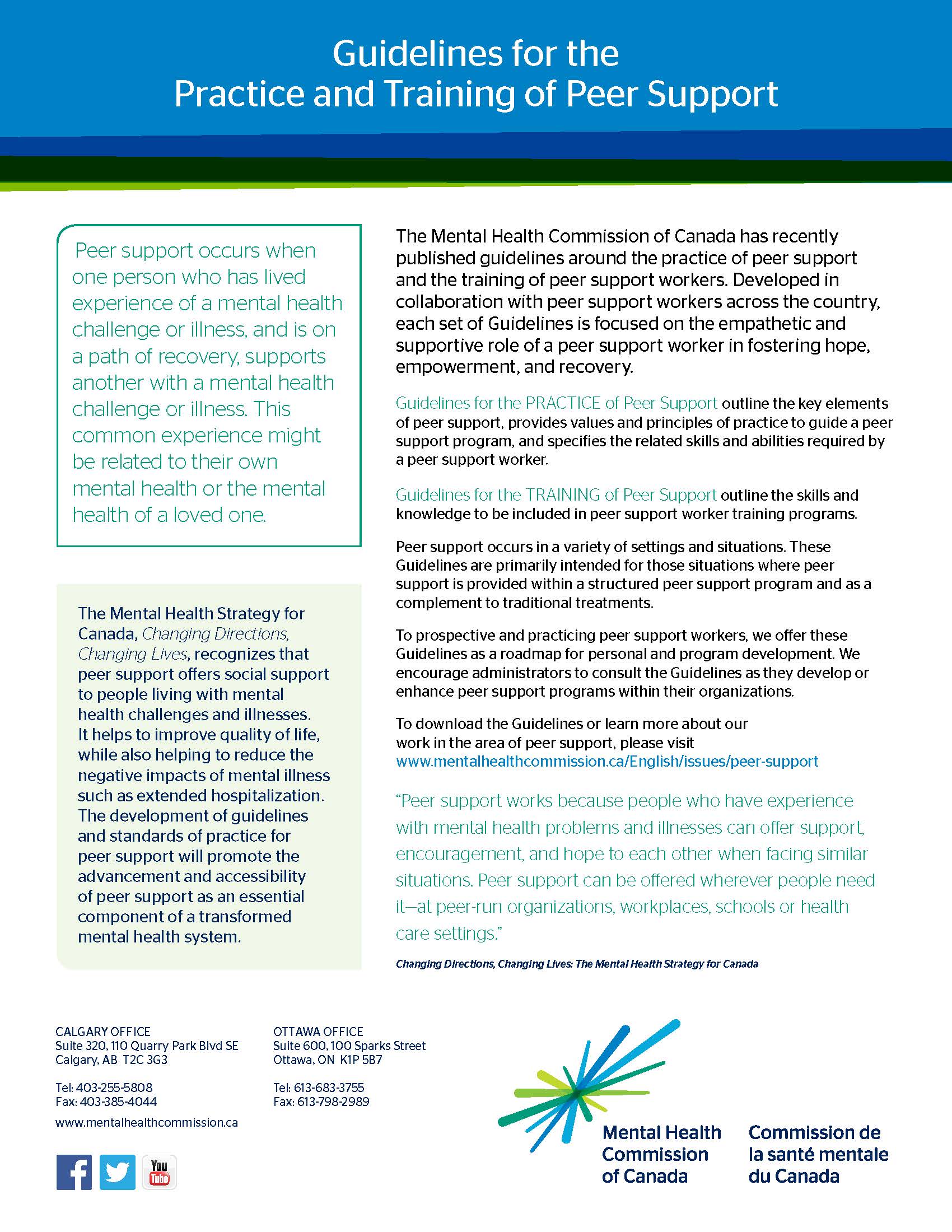 Peer support occurs when one person who has lived experience of a mental health challenge or illness, and is on a path of recovery, supports another with a mental health…