Catalyst – November 2021 – A new curriculum of challenges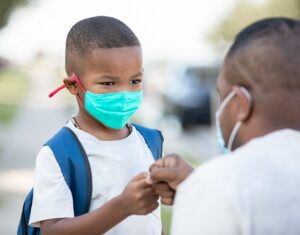 MHCC responds with a resource to help parents support their children's return to school
My phone rang. Then a text popped up. It was a Monday morning and my friend "Sarah" would usually be at work. That's odd, I thought.
"Hey, everything OK?" I asked when I got through.
Silence. A cough. Then, after interminable moments, a wobbly, "Hanging in there." Another, deep-throated, wracking cough. Then a sob. "'Julia' has COVID." A pause. "I'm pretty sure we all do." I was surprised at how sick she sounded. She and her husband are both double-vaccinated. I tried to imagine how unwell they might be if they weren't.
Then the whole story unfolded — dominoes tumbling, one after the other. Julia spiked a fever on a Friday night in mid-September. But her physical symptoms were at first the least of Sarah's concerns.
The emotional cost of COVID
"You can't hug me mommy," Julia said when Sarah started to comfort her. "The kids in my class aren't good at keeping their masks on. I forgot and talked today during lunch. I could make you sick. You need to stay away."
Even though Sarah works in a field that allows her to recognize the signs and symptoms of anxiety, she explained that knowing something at a clinical level doesn't always help when you're a parent sinking in a quagmire of pandemic-induced muck — and she isn't alone.
Consider recent research from the Mental Health Commission of Canada (MHCC), in partnership with the Canadian Paediatric Society, which found that 61 per cent of parents are very or extremely concerned about managing their child's behaviour, anxiety, emotions, and stress.
"I need to support my kids while also managing my own emotions. I am so frustrated and angry. We did everything right," Sarah said, pointing to her family's limited social contacts and the purchase of N95 masks for her two daughters, six and nine, to bring to school. "I am not ashamed that we didn't outrun this monster. But I am concerned with how to manage the long-term implications, not just in terms of potential lingering physical symptoms, but also in teaching my children how to navigate this reality without undue stress and worry."
Drawing on a valuable partnership
September in a post-vaccinated world was supposed to hold the promise of a return to normalcy. And while there was elation when that first bell rang, a new reality has since set in — one that includes helping children manage their emotions as COVID continues to leave its stamp on school communities.
For MHCC president and CEO Michel Rodrigue, who recalled how people at the commission knew parents would be facing challenges this year. "That's why we released a fall tip sheet on how to support young people returning to school. It was meant to help parents and caregivers in those low moments, as we all find ourselves when we're at a loss for supportive, comforting words."
To create the tip sheet, the MHCC joined forces with the Strongest Families Institute (SFI), a leading provider of skills-based behaviour training. We then distilled it into a few key tips and tricks that can be tacked onto a fridge or tucked into a struggling child's school backpack.
"It's important that we're ready to engage children on their own terms," said Dr. Patricia Lingley-Pottie, president and CEO of SFI. "Now is the time to watch for deviations in student behaviour. If they appear unsettled and apprehensive or show changes in mood and social tendencies, these may be signs of declining mental health."
A fresh perspective
Lingley-Pottie advises parents and teachers to approach the topic casually by opting for "side by side" conversations, listening without judgment, and reminding youth that it's OK to feel uneasy — that they're not alone, since many of their friends and even adults are having the same feelings.
These are techniques Sarah has started using with her girls. "Some days are better than others," she said, "but we try to keep the conversation going — realizing it's not 'one and done.' There are times when my older daughter wants to talk a great deal about her feelings, and others when she wants nothing other than to be distracted, watch a movie, or play a game."
Lingley-Pottie endorses such an approach. "In addition to being available to listen, it's also important to be open about your own feelings." By illustrating how you as a parent cope effectively with stress, she explained, you're modelling the kind of resilience children can emulate.
Ultimately, the deceptively simple techniques on the tip sheet reinforce the importance of helping children and young people build the confidence to face difficult situations and the vocabulary to openly discuss them.
For Lingley-Pottie, "it's important to notice persistent anxiety that is interfering with a child's life to prevent more serious anxiety or depression from taking root. What we've learned at SFI is that skills that promote good mental health early in life are just as important as the school curriculum."
Sarah agrees. "My kids have been in and out of virtual school these last couple of weeks. Are they missing some of their assignments? Sure. But we're taking the approach that staying mentally well is the priority. While I wouldn't wish COVID on anyone, we are profiting during this time by investing in the mental wellness of our kids."