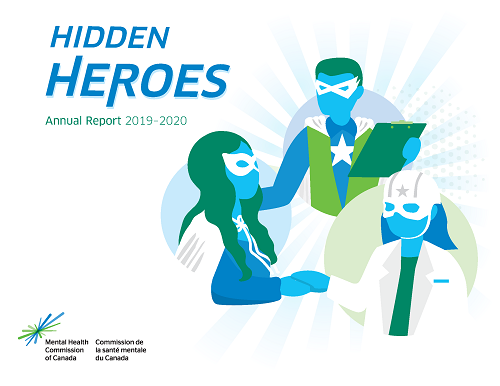 Purpose
Join us on our journey
As I sit down to write this, our world reminds me of a snow globe that's been shaken and hasn't yet been put to rights. The fallout from COVID-19 isn't well understood, but we know that next year will look very different from the last one.
2019–20 was a foundational year at the Mental Health Commission of Canada (MHCC), and I believe the year ahead will be one of exponential growth. For my entire career, I have advocated for the parity of mental health care, pulling at heartstrings and tugging at purse strings. The MHCC has built a case for investment based on the bottom line, and a call to action rooted in parity's moral imperative.
I've worked on the front lines of mental health, as a nurse and clinical therapist, and I've walked the winding road to recovery from mental illness. With every mile I've met others along the way whose conviction, that we must advocate for parity, mirrors my own. From peer supporters and housing advocates to people with lived experience of substance use and survivors of childhood trauma, we are bound by the belief that to ignore the wellness of our minds is to imperil our health. Period.
Until we stop making excuses and start opening our hearts, we'll all remain travellers on a journey fraught with barriers, unable to reach the shelter offered by universally accessible supports and services.
Make no mistake. Not one of us can be sure our lives won't diverge onto an unexpected path.
Some of us may need a single session with a counsellor to get back on track. Others may require intensive, long-term supports. But if we're lucky, we stumble upon hidden heroes — peer supporters, social workers, psychotherapists, nurses, or physicians — who see our value and believe in our recovery.
More and more, travellers have joined us in the weeks since the onset of COVID-19. A physical pandemic has highlighted a crying need as vast and diverse as the nation we call home. In this brief window of time — a veritable blink of an eye in policy development — an onslaught of innovations and interventions have risen from a collective will mobilized by the eye-opening realization that protecting our bodies from harm is only half the battle.
We are closer to the cusp of parity than we've ever been.
The MHCC has been working toward this moment for more than ten years, while some of our stakeholder partners have been toiling in the annals of mental health for ten decades. In January, a Nanos poll conducted for the MHCC reaffirmed that more than eight in 10 people in Canada believe physical health care and mental health care are equally important.
It's fitting, then, that our 2019–20 annual report highlights achievements that are serving as beacons of innovation across jurisdictions, which are searching to scale up a rapid response to a need that has now been boldly named and can no longer be ignored.