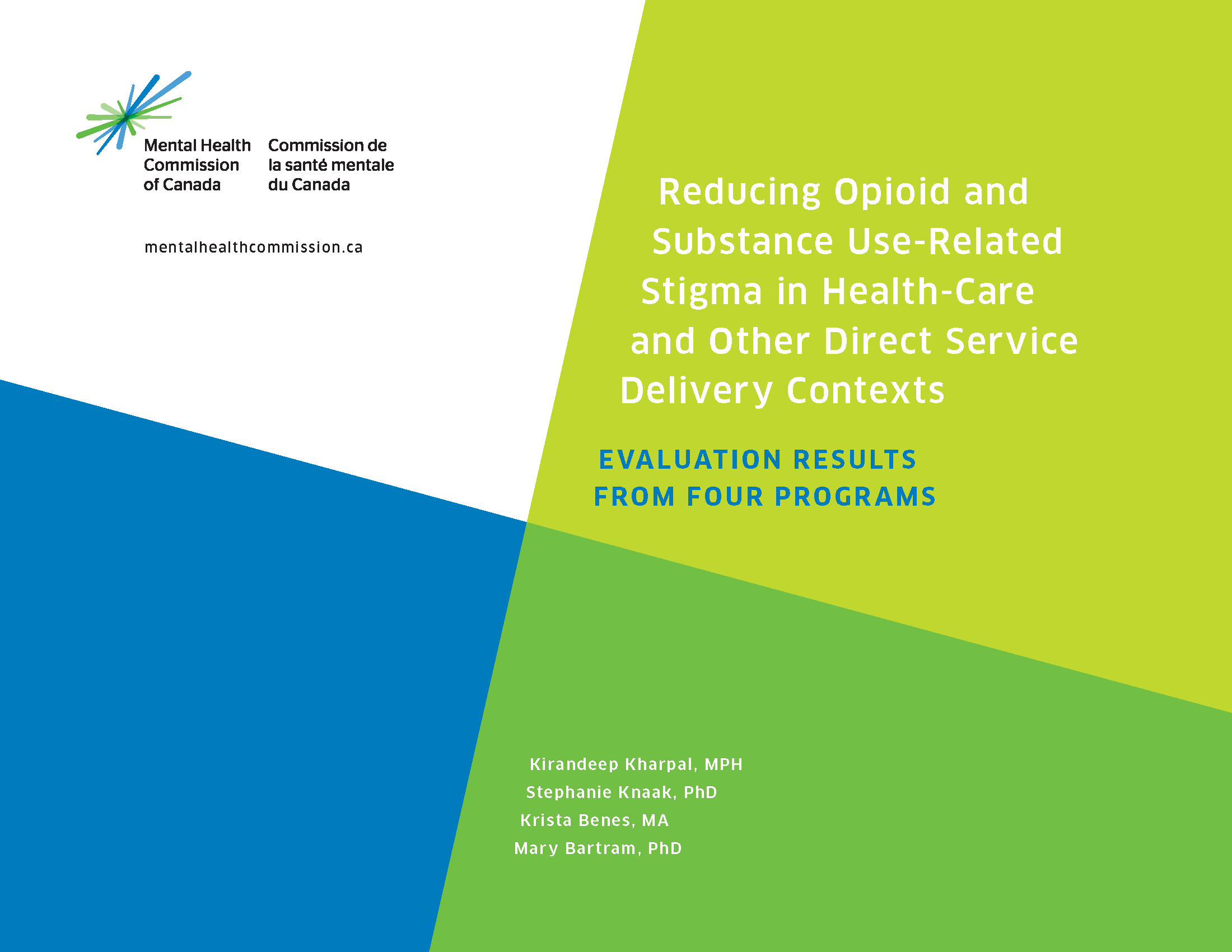 This report shares the Mental Health Commission of Canada's exploration of how to reduce opioid-related stigma in the context of the opioid crisis. It will summarize activities to date, share results from the initial evaluation of four stigma reduction initiatives, describe emerging themes and lessons, and identify future directions for this work.
Outward-facing programs
SELF-DIRECTED WEB-BASED PROGRAM:
Understanding Stigma is a web-based anti-stigma intervention for HCPs that uses social contact (both video and in-person stories and perspectives) as a core teaching element, along with educational and action-oriented components.
Overall, the results from our evaluation of Understanding Stigma using the OM-PATOS (Opening Minds Provider Attitudes Toward Opioid Use Scale) show it to be a promising program for reducing opioid-related stigma.
IN-PERSON CONTACT-BASED SUBSTANCE USE STIGMA REDUCTION PROGRAM:
This was the evaluation of the Community Addictions Peer Support Association's (CAPSA's) Stigma Ends with Me program. It is an in‑person workshop that aims to reduce substance use‑related stigma through education on addiction, the effects of stigmatizing behaviours and language, and the importance of compassion.
Results showed that Stigma Ends with Me was effective as a stigma reduction intervention.
OPIOID USE-SPECIFIC SOCIAL CONTACT INTERVENTION:
Research has clearly established that social contact and the power of personal story are key ingredients in the effective reduction of stigma, including among HCP and FR populations.
The moderate effect size observed for the social contact intervention is encouraging, especially since the intervention was only 1.5 hours in length.
TRAUMA AND RESILIENCY INFORMED PRACTICE (TRIP) TRAINING:
In 2017, British Columbia's Fraser Health Authority developed an innovative training program for direct service providers, which was designed to address the important connection between burnout, compassion satisfaction, resiliency, and quality of care.
Stigma is not only an issue of knowledge.
CONCLUSION
The effects of stigma on the care provided to people who use opioids is both significant and consequential. Multiple approaches to tackling this issue are needed for effective changes in attitudes and behaviours to occur. The results in this report outline several promising practices and methods for reducing stigma among HCPs, but these interventions alone cannot alleviate the problems caused by stigma in the current opioid crisis. Organizations should look at reducing stigma in their workplaces at multiple levels, including leadership and policy levels, to ensure long-lasting improvements to care for people who use opioids and other substances.