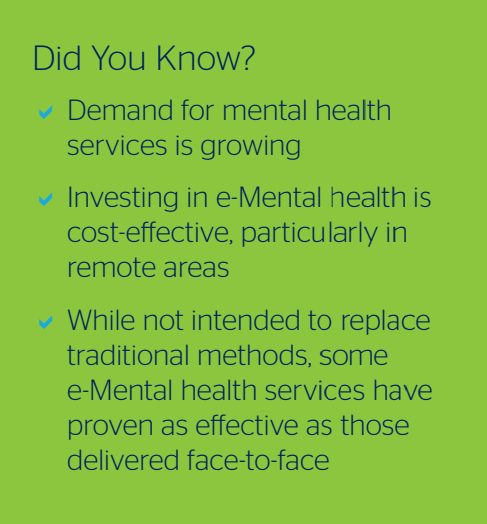 What is E-Mental Health?
Mental heath services and information delivered or enhanced through the internet and related technologies. E-Mental health technology and services complement traditional services, and are not intended to replace them.
What are the opportunities?
Further development and implementation of e-Mental health can help to transform the mental health system. It can empower consumers. It can give service providers greater reach. It can bring services to more rural, remote, and northern communities. Simply put, e-Mental health can ensure more Canadians with mental health problems or illnesses get the help they need.
What is the MHCC doing?
The Mental Health Commission of Canada (MHCC) brought together experts and thought leaders from across the country and around the world to help advance e-Mental health.
Through their input, the MHCC has released E-Mental Health in Canada: Transforming the Mental Health System Using Technology. This briefing paper provides valuable and up-to-date information in the area, including:
A scope of current technologies
key considerations for their use
success stories highlighting promising practices and innovative programs
recommendations to enhance e-Mental health across the country
Guided by this briefing paper, the MHCC and its partners are working to bring increased attention, investment, and understanding to the area of e-Mental health, and to identify additional opportunities to further develop this promising field of service and resource delivery.