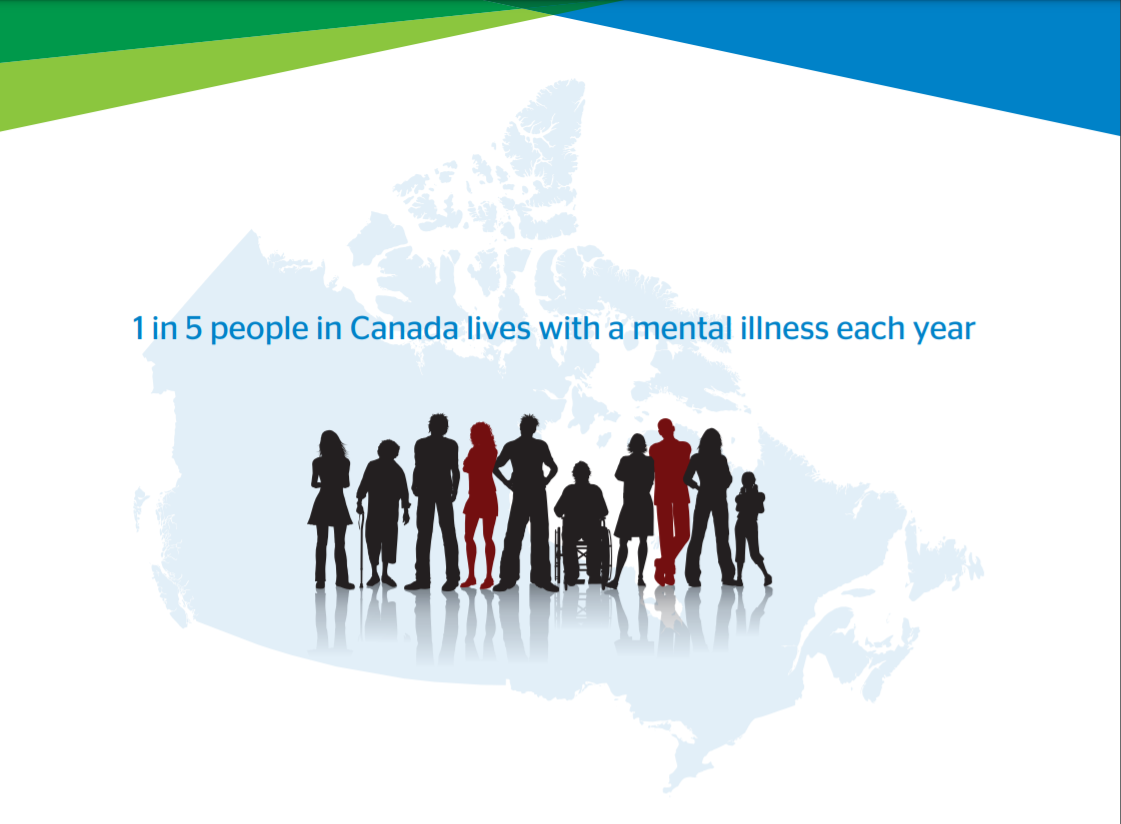 This report was published in 2013. The data may be out of date.
In 2010, the Mental Health Commission of Canada commissioned a study to fill a gap in pan–Canadian information about the number of people living with mental health problems and illness today and the associated costs. The study built a unique model based on a wide range of existing studies in Canada and internationally. Its findings, combined with existing evidence of effective interventions, offer some key reasons for why it is important to invest smartly in mental health.
The total cost from mental health problems and illnesses to the Canadian economy is significant.
The study commissioned by the MHCC makes it clear that the economic cost to Canada is at least $50 billion per year. This represents 2.8% of Canada's 2011 gross domestic product.
Health care, social services and income support costs make up the biggest proportion of these costs. But it also cost business more than $6 billion in lost productivity (from absenteeism, presenteeism and turnover) in 2011.
Over the next 30 years the total cost to the economy will have added up to more than 2.5 trillion. In any given year, one in five people in Canada experiences a mental health problem or illness and it affects almost everyone in some way.
More than 6.7 million people in Canada are living with a mental health problem or illness today. By comparison 2.2 million people in Canada have type 2 diabetes.
Mental health problems and illnesses hit early in people's lives. More than 28% of people aged 20-29 experience a mental illness in a given year. By the time people reach 40 years of age, 1 in 2 people in Canada will have had or have a mental illness.
If we include families and caregivers, mental health problems and illnesses impact almost everyone in some way.
The impact of mental health problems and illnesses is especially felt in workplaces and among working-aged people.
People in their early and prime working years are among the hardest hit by mental health problems and illnesses.
About 21.4% of the working population in Canada currently experience mental health problems and illnesses, which can affect their productivity.
Mental health problems and illnesses account for approximately 30% of short – and long-term disability claims and are rated one of the top three drivers of such claims by more than 80% of Canadian employers.
There is strong evidence that investing in effective programs can make a difference to the economy and to the health of the population.
Changing Directions, Changing Lives: The Mental Health Strategy for Canada offers a range of proven and promising practices that can make a difference to the bottom line and to people impacted by mental health problems and illnesses in Canada.
We cannot eliminate all costs associated with mental illnesses but we can do a better job of delivering programs that create better mental health outcomes and see cost benefits in the process.
If we just reduced the number of people experiencing a new mental illness in a given year by 10% – something that is very feasible in many illnesses among young people, after 10 years we could be saving the economy at least $4 billion a year.
We know this is possible because we know that promotion, prevention and early intervention targeted at children and families can produce significant net cost benefits, such as through parent education and family support.
We also know that programs that help people access treatment early, or help them stay out of hospital or the criminal justice system can generate cost savings.
Improved management of mental health in the workplace including prevention, early action to combat stress and identify problems could decrease losses to productivity significantly.