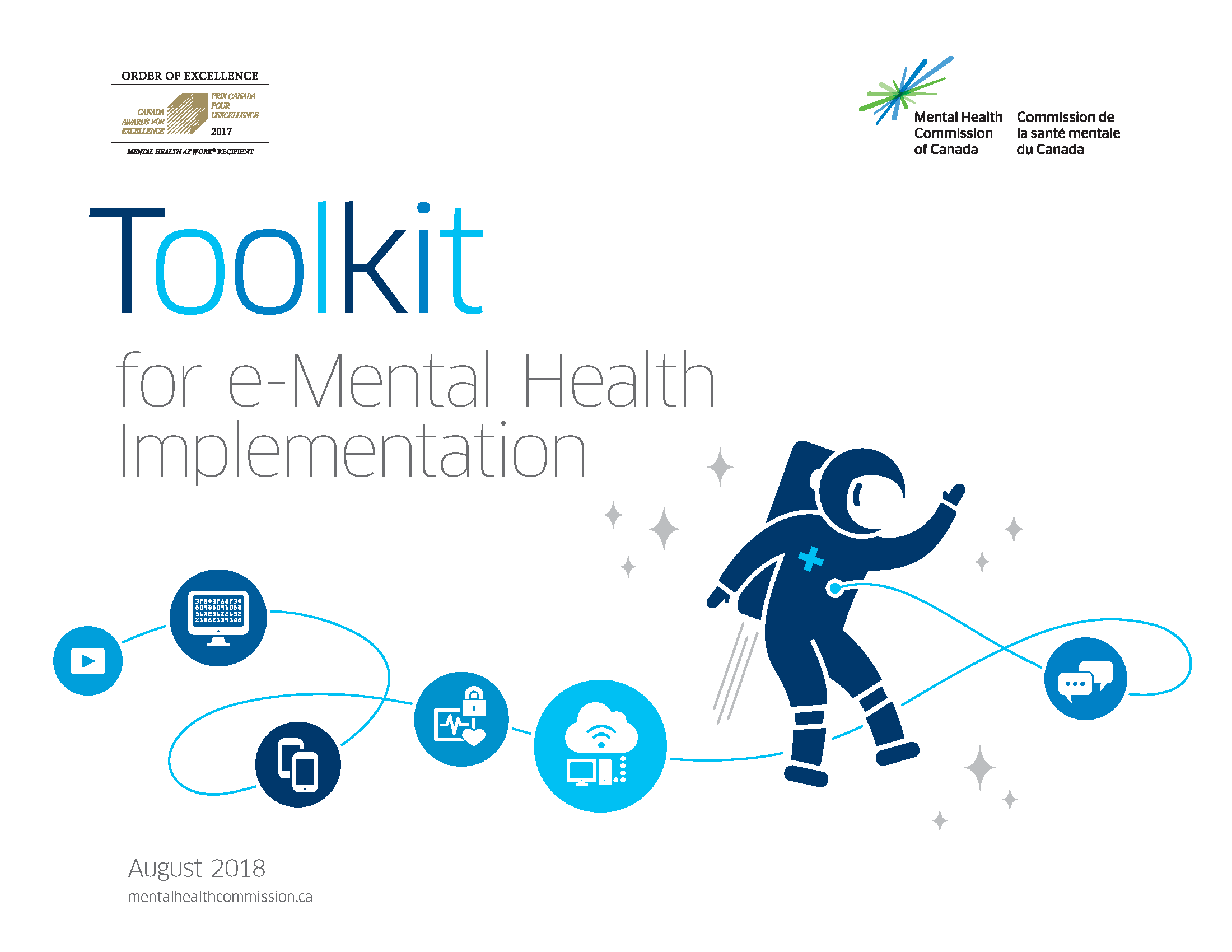 What is e-mental health?
The term e-mental health refers to the use of the internet and other electronic communication technologies to deliver mental health information and care. E-mental health services are an effective and complementary option to traditional face-to-face mental health support. By providing accessible and convenient assistance, e-mental health can play an important role for patients seeking help.
Why an e-mental health implementation toolkit?
Provincial and territorial jurisdictions have improved e-health resources for health providers. But mental health care practitioners continue to identify common barriers around the provision of e-mental health,
including:
procedural and administrative hurdles
demanding workloads for clinicians
patient concerns regarding privacy of personal data
lack of evidence surrounding cost effectiveness
lack of leadership
lack of e-mental health legislation or regulation
lack of interoperability in connecting with current health system
Overcoming these barriers is a challenge for financially strained mental health care systems that face increasing demand and an aging clinical workforce. However, research shows the likelihood of achieving successful e-health programs increases when:
leaders at all levels (e.g., government, health authorities, health centres, etc.) support the implementation of e-health initiatives
implementation guidelines are systematic and participatory
before implementation, an environmental readiness assessment is conducted
barriers and facilitators are assessed and addressed
adequate resources are dedicated to the implementation of e-health
To support the establishment of e-mental health programs, this implementation toolkit was developed. The goal of the toolkit is to provide:
an introductory resource for practitioners who may not yet have any formal e-health training
evidence-informed samples and templates for e-mental health planning and implementation
a useful resource for front-line practitioners, managers and senior mental health leaders with a project implementation / quality / risk focus
a support to e-mental health champions and leaders who provide training and guidance to other health practitioners
a map of current internationally recognized e-mental health practices and trends
a starting point for promoting knowledge sharing, lessons learned, successes and challenges
The toolkit reflects information gathered from the knowledge and experience of the authors and research group, an environmental scan and rapid review of existing literature, interviews conducted with key informants across Canada and internationally, peer-reviewed research, templates and examples provided by relevant organizations, and insights shared by many on-the-ground practitioners at various meetings, gatherings and forums.