What is the issue?
Canada is often defined by its diversity. Home to millions of people from different backgrounds and cultures, more than 200 languages are spoken across the country, with 20% of Canadians having a language other than English or French as their mother tongue. However, providing mental health services and supports to such a diverse population can be challenging.
Responding to the Diverse Needs of Immigrant, Refugee, Ethnocultural and Racialized (IRER) Populations in Canada
Immigrants, refugees, and members of distinct ethnocultural groups can experience discrimination, language barriers, and a sense of displacement. These factors  can greatly affect a person's wellbeing and prevent awareness of available mental health services and supports. As a result, many people do not seek treatment for a mental health problem or mental illness right away. When they do, their cultural background may lead them to describe the problem in ways that are unfamiliar to service providers, which can cause misunderstanding.
To support Canada's diverse population, mental health services need to be more accessible to all Canadians and complemented by better coordination between policy and research-based evidence. The needs of some ethnocultural groups can be met by expanding existing services; in other cases, new approaches will be necessary. This work requires the greater involvement of communities, families, and people who have lived experience of a mental health problem and mental illness in planning appropriate as well as improved services and approaches.
What are we doing?
The MHCC's Mental Health Strategy for Canada identifies better services for the country's diverse populations as a priority for improving the mental health system. Through key initiatives, the MHCC has contributed to the Canadian literature on improving mental health services for immigrant, refugee, ethnocultural and racialized populations. A recently released report, "Immigrant, refugee, ethnocultural and racialized populations and the social determinants of health – A Review of the 2016 Census Data", highlights select sociodemographic trends and issues related to IRER mental health and well-being.
Supporting immigrant, refugee, ethnocultural, and racialized (IRER) populations
Culturally Adapted Cognitive Behavioural Therapy (CaCBT) for Canadians of South Asian Origin is a project that aims to develop a specialized form of psychotherapy, specifically for South Asian populations living in Canada. Cognitive behavioural therapy (CBT) is an evidence-based psychological treatment, which this project will culturally adapt with the hope of improving mental health outcomes for South Asian Canadians affected by anxiety and depression. With funding from Health Canada, the Centre for Addiction and Mental Health (CAMH) and the MHCC are collaborating with well-respected community agencies from across Canada, who will be essential in project implementation: Moving Forward Family Services (Vancouver), Punjabi Community Health Services (GTA), Ottawa Newcomer Health Centre (Somerset West Community Health Centre – Ottawa).
What have we learned?
The 2009 Issues and Options report identifies five action areas that demand collaborative effort:
Prevention
Inclusion
Diversification
Access; and
Language
Building on the previous report, The Case for Diversity, released in 2016, makes a compelling case for the social and economic significance of responding to the needs of IRER populations, providing policy makers and system planners with evidence about current mental health disparities, practices of interest, and the cost savings associated with closing the gap.
Mental Health Indicators for Canada
The Mental Health Commission of Canada (MHCC) created a number of resources to support the mental health and wellness of immigrants, refugees, and distinct ethno-cultural groups across Canada. Click on the links below for more information.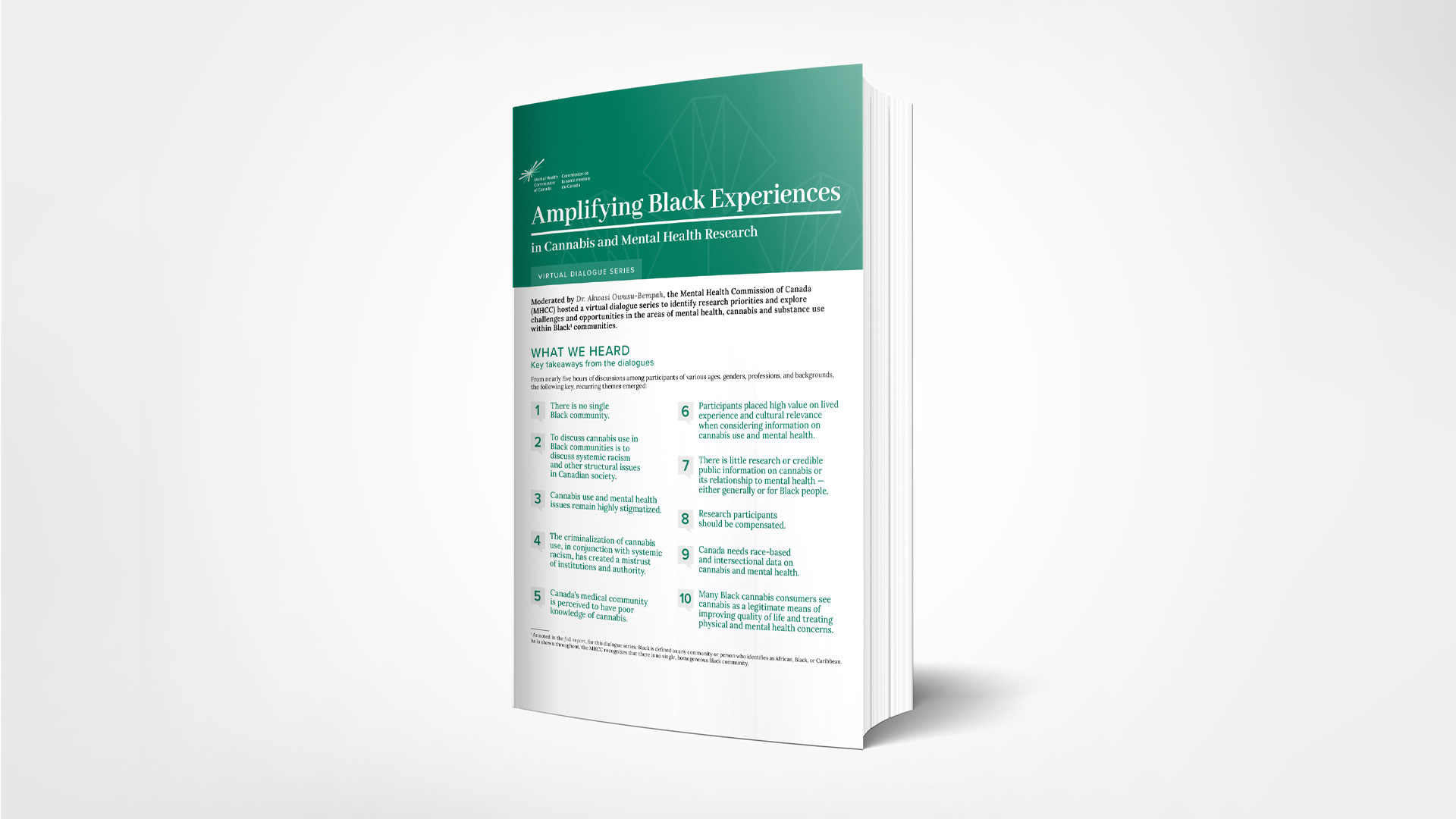 Moderated by Dr. Akwasi Owusu-Bempah, the Mental Health Commission of Canada (MHCC) hosted a virtual dialogue series to identify research priorities and explore challenges and opportunities in the areas of...